NON-PROFIT COMMUNICATION SERVICES
A complete and integrated offer for all your communication needs
NON-PROFIT COMMUNICATION SERVICES
   A complete and integrated offer for all your communication needs
Since 2010 we have been alongside charities, non-profit organizations and Third Sector associations in all their communication activities, both paper and digital.
DIRECT MAILING
PAPER
It communicates in a targeted and effective way thanks to our possibilities of customizing text and images in color, even on short runs, with mailing to the final recipient.
MULTI CHANNEL COMMUNICATION
Not just paper: we also support you in managing integrated digital campaigns, such as SMS or e-mail, with an end-to-end process.
MATERIAL FOR STREET EVENTS
We are also with you during street events thanks to our solutions for large format printing.
BOOKS, CATALOGUES
AND DARIES
Talk about your initiatives, tell about your association or design a gift idea with our selection of products that can be fully customized, even in single copies.
But that's not all: We are able to support you with the design of landing pages and sites for your fundraising campaigns; in addition, we also deal with data analytics and reporting solutions to help you make the most of the data you have.
Retain your donors thanks to effective, targeted and highly personalized communications: always put them at the centre to make them feel an integral part of your project.
WHAT WE DO: SOME EXAMPLES
WHAT WE DO: SOME EXAMPLES
› Welcome letters
› Thank-you letters
› Campaigns
› Solidarity Bequest
› Memorial donations
› Fiscal reporting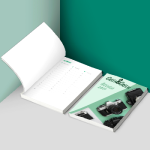 › Informative materials
› Editorial publications
› Customized agendas
› Thank-you Custom books
› Newsletters
› Magazine
› Feather flags and roll-up
› Adjustable frame banner
› Banner and PVC banner
› Stand
› Printing on rigid media including custom shape cut
› Playbills and Poster
We are a certified player.
Decades of experience in data management
Order the quantities you needed only, thanks to on-demand printing
Full color customization, even on the single copy
No increase in printing costs for customizations
Capability to manage low volume printing too
Management of extraordinary and emergency mailings in 48h
Direct shipment to the final recipient
Do you want to know more about our services in support of the Third Sector?
Fill out the form and we will contact you to offer you all the information you need.